Quarantine severely stoked our love of consolation meals, to not point out our cravings for carbs.
So it is little shock that SoMa's Zero Zero caught our consideration mid-pandemic with a next-level garlic bread aimed toward satisfying even probably the most intense munchies.
---
The restaurant's "Stoner" garlic bread made our record of top 100 takeout dishes this 12 months and, sure, it's the creation of a stoned and hungry chef.
Final summer time, chef-owner Bruce Hill was resurfacing the flooring at Zero Zero and had plans to hit a pal's barbecue afterward. "I needed to deliver garlic bread, so I raided the road and virtually the entire components had been on the pasta station," he says.
A number of Italian spices, cheeses, and slathers of butter later, Hill shared the bread along with his crew. After a couple of puffs of mary jane, they began digging into the bread: "We had a stoner Fourth, and mentioned the way it could possibly be even higher," he remembers. "I got here up with cooking it on a bent wire rack to create area between the slices. This may also be achieved by making a foil bridge to carry the bread in that form."
Get the recipe for this oh-so-delicious garlic bread under.
Stoner Garlic Bread
Makes 8 servings
Tools: blender, mixing bowls, pastry bag or ziploc baggie, sheet pan, foil
Components
Butter, unsalted, smooth 150 grams
Cream Cheese, smooth 50 grams
Grana Padano Cheese, grated 100 grams
Contemporary Mozzarella cheese, chopped wonderful 200 grams
Calabrian Chili, chopped 40 grams
Garlic, chopped 60 grams
EVOO 60 grams
Contemporary basil 40 grams
Kosher Salt 3 grams
Pepper, freshly floor 5 grams
Panorama Rusticana Batard bread, 2 loaves (every is 15 inches lengthy)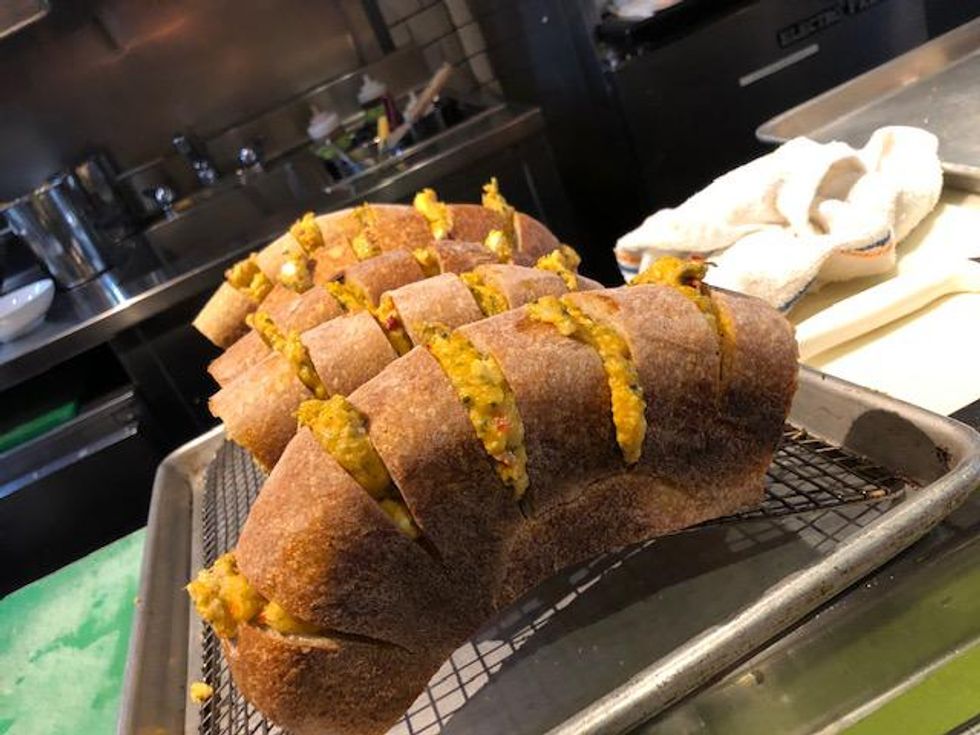 Prepped Stoner Garlic Bread able to bake on a curved baking rack.(Bruce Hill)
Instructions
Carry your entire components to room temperature.
Preheat the oven to 475 levels or 425 if in case you have a convection oven.
In a small, non-stick pan, cook dinner the entire chopped garlic in 30 grams of olive oil. Prepare dinner until smooth. Transfer it to a plate to chill off.
Soak 40 grams of inexperienced basil leaves in ice water and drain. Some water could keep on with the basil — that is okay as soaking in ice water helps hold the basil's inexperienced colour.
Puree the basil leaves in a blender with 20 grams of olive oil with the salt and pepper.
In a big mixing bowl, mix the butter, cream cheese, and 10 grams of olive oil. Combine totally to a clean consistency.
Fold within the basil puree, Calabrian chili, Grana Padano cheese, and mozzarella cheese into the butter combination with a rubber spatula.
Switch the butter combination to pastry luggage. (If wanted, create a makeshift pastry bag by reducing off a small nook of a ziploc baggie).
Hold your butter combination at room temp whilst you transfer to prep the bread.
Take every 15-inch loaf of bread and reduce it in half lengthwise, then reduce every in half once more. This may depart you with 4 quarter wedges of bread, every 3×7 inches.
Rating the highest of every quarter wedge of bread into 6-7 slits, being cautious to not reduce all through. The bread will now appear like an accordion or row of knuckles.
Generously pipe the butter combination between the slits you narrow within the bread and rub a beneficiant quantity of butter combination everywhere in the bread avoiding the underside.
Bake the bread on a bent rack (or wadded up in foil) to assist hold the loaf's bent form for 8 minutes.
Serve piping sizzling!
window.REBELMOUSE_LOWEST_TASKS_QUEUE.push(function(){
!function(f,b,e,v,n,t,s) {if(f.fbq)return;n=f.fbq=function(){n.callMethod? n.callMethod.apply(n,arguments):n.queue.push(arguments)}; if(!f._fbq)f._fbq=n;n.push=n;n.loaded=!0;n.version='2.0'; n.queue=[];t=b.createElement(e);t.async=!0; t.src=v;s=b.getElementsByTagName(e)[0]; s.parentNode.insertBefore(t,s)}(window, document,'script', 'https://connect.facebook.net/en_US/fbevents.js'); fbq('init', '313173625837109'); fbq('track', 'PageView');
});
window.REBELMOUSE_LOWEST_TASKS_QUEUE.push(function(){
document.addEventListener('rebelmouse.urlChange',event=> { // Listen to Page View Upon URL Change Event var runnerEvents = __RUNNER_PUBLIC__.events; var runnerRootID = __RUNNER_PUBLIC__.root; var element = document.getElementById(runnerRootID) if(element) { element.addEventListener(runnerEvents.LISTICLE_CHANGE_PAGE_VIEW, function () { console.log('santos pantalones amarillos batman'); //googletag.pubads().refresh([leaderboard]); }) } });
});
window.REBELMOUSE_LOWEST_TASKS_QUEUE.push(function(){
var interval = setInterval(function(){ var els = document.querySelectorAll(".post-pager__btn");
for(var i = 0; i < els.length; ++i) { var href = els[i].getAttribute('href').replace('rebelltitem', 'relbelltitem_'); els[i].setAttribute('href', href); }}, 1000); }); window.REBELMOUSE_LOWEST_TASKS_QUEUE.push(function(){ (function() { var elem = document.createElement('script'); elem.src = (document.location.protocol == "https:" ? "https://secure" : "http://edge") + ".quantserve.com/quant.js"; elem.async = true; elem.type = "text/javascript"; var scpt = document.getElementsByTagName('script')[0]; scpt.parentNode.insertBefore(elem, scpt); })(); _qevents.push({ qacct:"p-bf8V1VmsGmw36" }); }); window.REBELMOUSE_LOWEST_TASKS_QUEUE.push(function(){ window.REBELMOUSE_STDLIB.loadExternalScript("//static.ctctcdn.com/js/signup-form-widget/current/signup-form-widget.min.js", function() { }); });



Source link